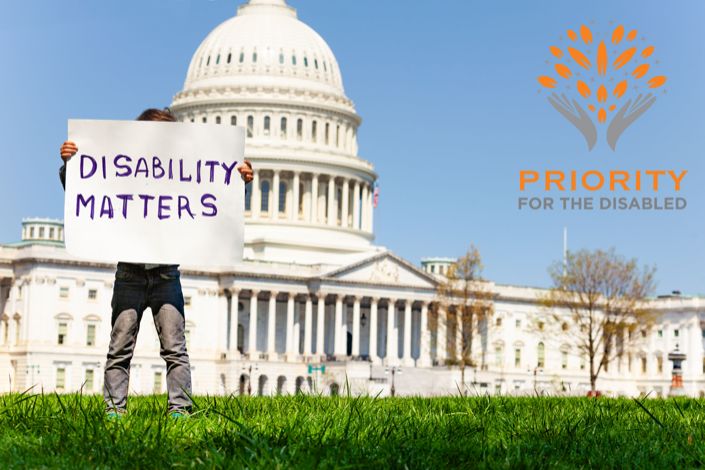 Disability Rights Movement 
The disability rights movement is a global movement that advocates for and secures equal rights and opportunities for people who have disabilities. In the United States, and around the world, the movement has been successful in changing laws and social attitudes to make societies more inclusive. We offer a brief history of how the disability rights movement transformed the civil rights landscape in the United States from past to present.
What Is the Disability Rights Movement?
The disability rights movement is a global social movement related to the 1960s civil rights movement that works to break social, physical, and institutional barriers that prevent people with disabilities from living their fullest lives. The movement has sought to achieve rights and opportunities for people with disabilities. This movement has advocated for goals such as securing freedom from discrimination, neglect, abuse, and other violations of rights; ensuring accessibility and safety in the physical environment, including in buildings and through transportation; and advocating for equal opportunities for independent living, housing, education, and employment equity.
The disability rights movement has challenged centuries of harmful stereotypes and biased assumptions to reduce the stigma of disability as well as the economic and social marginalization for previous generations of Americans and global citizens. Today, Americans with disabilities are a group of about 50 million people who seek to define themselves by their status as human beings and lead self-affirming, independent lives.
The History of the Disability Rights Movement
The disability rights movement consists of grassroots activities of disability activists that began during the 1960s alongside the civil rights and women's rights movements. During this time period, disability rights advocates working for the rights of people with different types of disabilities, with different essential needs, started working together with a cross-disability focus for a common cause.
While individual advances had been made for people with some types of disabilities, Americans with disabilities still lacked access to public places such as stores, bathrooms, and transportation. Talented people with disabilities were often barred from the workplace due to inaccessible worksites and employer discrimination. The civil rights movement of the 1960s created an opportunity for disability rights activists to work alongside others advocating for the equal rights, opportunities, and treatment of minority groups.
During this time period, disability rights activists mobilized to lobby for national legislation to address the social and physical barriers that individuals with disabilities faced. Parents of children with disabilities played an important role in the movement, demanding that children be taken out of institutions and placed in public schools.
The Rehabilitation Act of 1973
Disability rights movement activists marched on Washington, D.C., and lobbied Congress during the 1970s. As a result, the Rehabilitation Act of 1973 was the first piece of national legislation passed in U.S. history that protected the rights of people with disabilities.
Section 504 of the Rehabilitation Act of 1973 states, in part, "No otherwise qualified individual with a disability in the United States . . . shall, solely by reason of her or his disability, be excluded from the participation in, be denied the benefits of, or be subjected to discrimination under any program or activity receiving Federal financial assistance." Section 504 therefore provides equal employment opportunity and equal access to federally funded programs for people with disabilities by prohibiting discrimination based on disability.
Section 504 requires that public school districts in the United States provide a free appropriate public education to all students who qualify. In other words, a school district must provide special education and related aids and services designed to meet the needs of students with disabilities as well as the needs of students without disabilities.
Additionally, the Education for All Handicapped Children Act of 1975 specified that every child, including children with disabilities, had a right to inclusion in mainstream education classes, unless the child could not achieve a satisfactory level of education in such classes. This legislation was renamed the Individuals with Disabilities Education Act (IDEA) in 1990, and the legislation was expanded at this time to include the rights of parents to participate in making educational decisions that affect their children who have disabilities.
The Americans with Disabilities Act (ADA) of 1990
With these successes during the 1970s, in the 1980s, disability rights activists started to lobby for a broad civil rights statute to prohibit discrimination against people with disabilities, much like the 1964 Civil Rights Act which prohibited discrimination on the basis of race, religion, national origin, or gender.
After decades of work by the disability rights activist community, the U.S. Congress passed the Americans with Disabilities Act (ADA) of 1990. The ADA prohibits discrimination against people with disabilities in places of public accommodations and transportation, employment, and services provided by the government. After the ADA passed, all public businesses were required to make accommodations to provide services to people with disabilities. For example, telecommunications firms must offer adaptive services with their public offerings. 
Disability Rights Protests
In addition to lobbying to pass federal legislation, disability rights activists have engaged in protests and campaigns to demonstrate in support for disability rights. Famously, in 1977, the American Coalition of Citizens with Disabilities staged a sit-in at buildings across the country operated by the U.S. Department of Health, Education, and Welfare (HEW). The protest eventually led to the government's release of regulations related to Section 504 of the Rehabilitation Act of 1973. Students at Gallaudet University — an institution of higher learning in Washington, D.C. that provides learning, teaching, and research for deaf and hard-of-hearing students — led a "Deaf President Now" protest in 1988. The students demanded that the university appoint a deaf president and deaf members who would make up a majority of the board of trustees.
The disability rights movement has a rich history of advocating for the rights of people with disabilities, achieving a number of remarkable victories over the course of the past more than five decades. While activists have more to accomplish, the movement's work has helped Americans with disabilities to live fulfilling lives in public spaces that affirm their dignity as human beings and afford them respect.