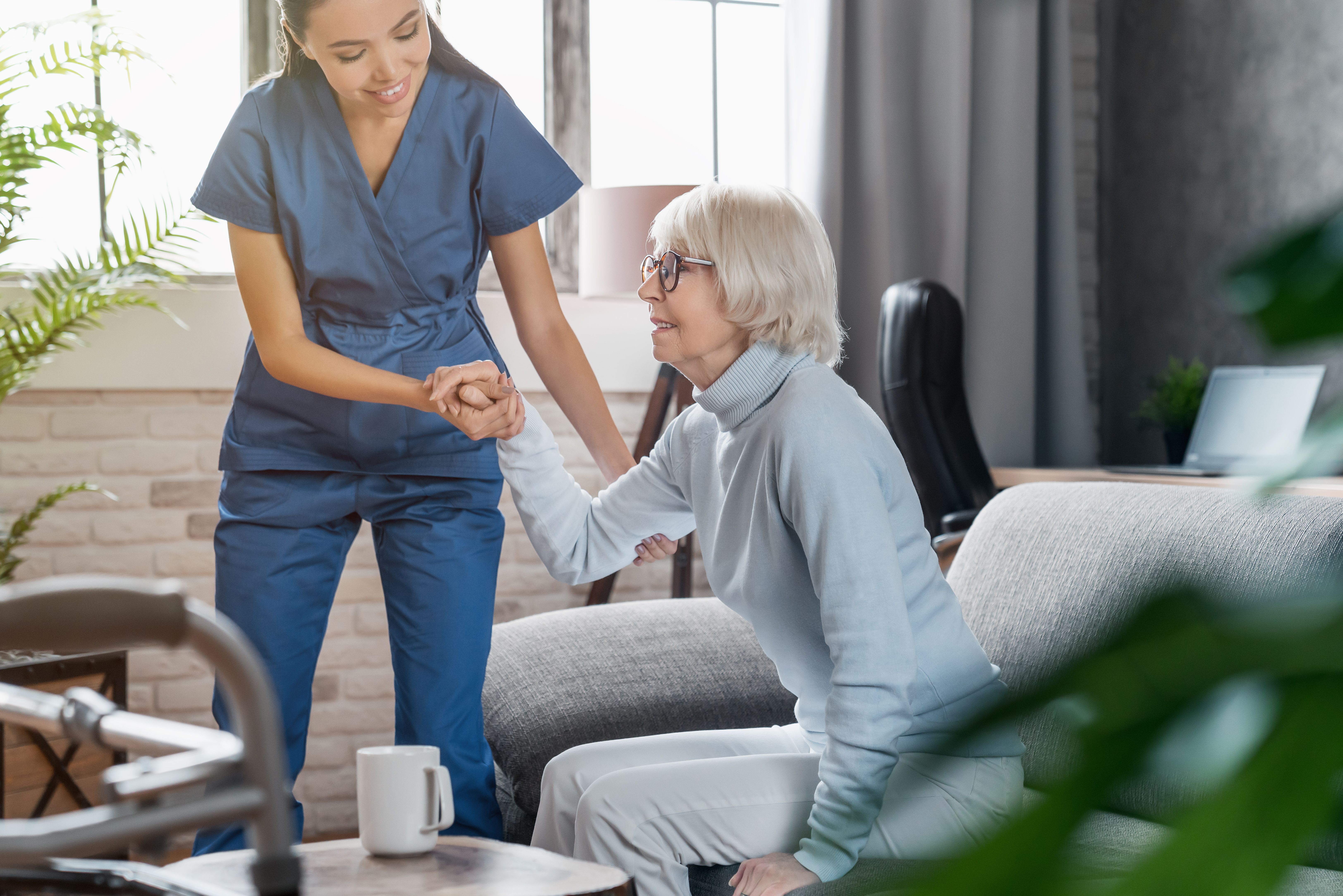 In-Home Supportive Services (also known as IHSS) provides support to low-income people with disabilities in their homes. In this article, we  define in-home supportive services and review some of the government programs that provide funding for in-home caregivers.

What Are In-Home Supportive Services?

In-Home Supportive Services (IHSS) are services for people who are disabled or who are 65 years or older that allow them to safely stay in their homes. IHSS is often viewed as an alternative to moving into a nursing facility or assisted living facility. IHSS can include a wide range of services, from household chores to personal care and paramedical services.

IHSS provides daily, at-home support, including:

- Meal preparation and clean up.
- Transportation and medical appointments.
- Bathing and hygiene-related tasks.
- Housekeeping and cleaning.
- Spoon feeding.
- Assistance with breathing equipment.
- Medication management.
- Dressing assistance.

The extent of public funding for IHSS and the kind of programs offering such support varies by state. In the state of Florida, there are several different programs that can fund or provide in-home support services.

Florida Medicaid

Florida seniors and people with disabilities who are eligible for Florida state Medicaid may be eligible to receive support in their homes, in assisted living, or in their community. The program is called Florida Statewide Medicaid Managed Care Long-Term Care Program, or SMMC LTC.

In order to be eligible to receive in-home care services under SMMC LTC, candidates must meet these criteria:

- Be legal Florida residents.
- Be at least 65 years of age or be younger than 65 and designated as 'disabled' by the Social Security Administration.
- Need what is known as a 'nursing facility level of care.'
- Meet the financial requirements for Florida Medicaid.

The qualification that candidates must require a 'nursing facility level of care' does not necessarily mean that the recipient of care requires skilled medical or nursing services. Instead, the state uses a standardized, in-person exam to assess the degree to which an applicant needs assistance to complete at least two activities of daily living, such as mobility, eating, bathing, or personal hygiene. Additionally, the state recognizes the need for supervision for people who have memory impairments, such as Alzheimer's and dementia care patients, who do not necessarily have physical limitations.

Financial eligibility for Florida state Medicaid is complex. The requirements consider an applicant's income and assets as well as his or her potential spouse's income and assets. Single individuals must have a monthly income less than $3,350 and countable assets aside from their home must be valued at $2,000 or less. The rules for married beneficiaries are more complex. Visit the benefits.gov website to learn more about Florida's state Medicaid requirements.

Florida's Statewide Medicaid Managed Care Long-Term Care Program (SMMC LTC) provides eligible candidates with services that help them to live independently in their homes, including chore services, medication management, adult day care, personal care, and more. Additionally, SMMC LTC allows beneficiaries to choose their own providers for certain services. This means that family, friends, and other community members may be eligible to be hired to perform certain services that do not require specialized medical training. In Florida, caregivers must accept the Medicaid hourly compensation rate, which is estimated at between $9 and $13 per hour, pass a background check, and be eligible to work in the United States.

Home Care for the Elderly Program (HCE)

Home Care for the Elderly (HCE) is a Florida program that provides financial support for caregivers of low-income senior Floridians that the caregiver would otherwise have paid out of pocket, such as home-delivered meals, adult day care, medical supplies, incontinence products, or other products and services that allow the recipient of care to remain at home. It is also an alternative to nursing and assisted living facilities. HCE provides a basic average subsidy of $106 per month to program participants. There is also a special subsidy that is available to assist with specialized health care needs.

In order to be eligible to receive HCE, candidates must:

- Be 60 years of age or older.
- Meet certain income and asset limits.
- Be at risk for nursing home placement.
- Have an approved adult caregiver who lives with them and can help provide or arrange for care.
- Not also be receiving support from SMMC LTC.

To learn more about eligibility for HCE or to find your local Aging Resource Center (ARC) in Florida, call the Elder Helpline at 1-800-96-ELDER (1-800-963-5337).

Older Americans Act (OAA)

The Older Americans Act (OOA) is a federal program that provides assistance to develop new programs to assist older people by awarding grants to states to provide such services. In Florida, OAA funds are allocated to the 11 Area Agencies on Aging, which contract with local service providers to deliver services, including caregiver training and support, personal care, medical transportation, preventive health services, at-home meal services, and more to eligible Florida resident who are aged 60 or older as well as their caregivers.

To learn more about this program, visit the state of Florida's Department of Elder Affairs website.

Community Care for the Elderly (CCE)

Community Care for the Elderly (CCE) is a long-standing program in Florida that uses state funds to provide services to elders who are aged 60 and older. Such services include having a home health aide, home nursing, medical therapeutic care, home repair, and more. The services are intended to support elder Florida residents in performing daily tasks like bathing, grooming, and meal preparation.

Veteran-Directed Care Program

Veteran-Directed Care Program, formerly known as VD-HCBS, provides military veterans who are otherwise nursing home eligible to receive the same level of care in their homes. The goal is to assist veterans in staying in their homes and communities. Eligible veterans manage their own flexible budgets to hire their own aides or purchase relevant goods and services. To learn more about the Veteran-Directed Care Program in Florida and find resources, visit the Administration for Community Living website.