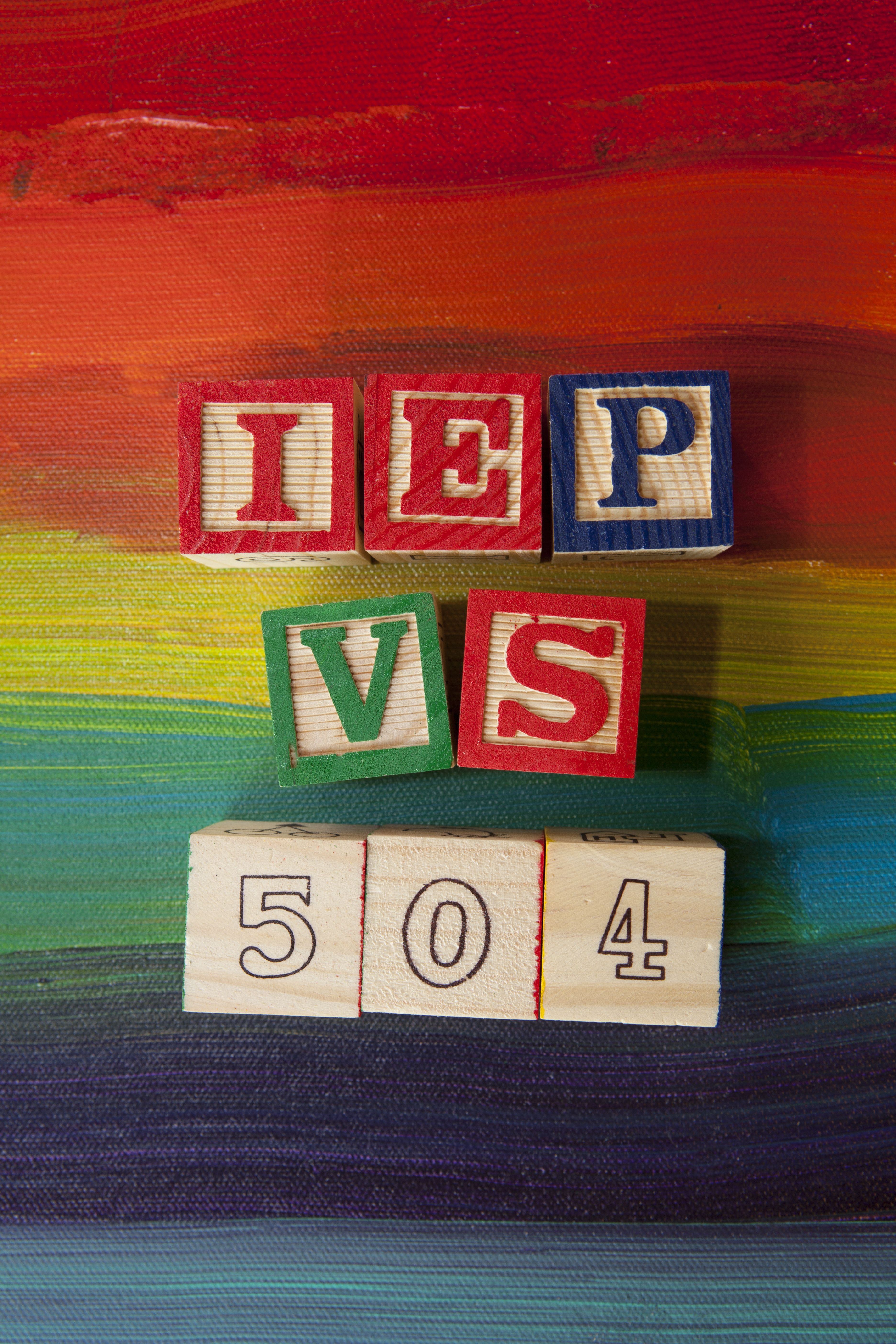 Children with disabilities may receive disability-related accommodations in U.S. schools to fully participate in education through either an Individualized Education Plan (IEP) or 504 Plan. Here, we review both IEPs and 504 Plans as well as some of the most important similarities and differences between them. 

What is an Individualized Education Program (IEP)?

An Individualized Education Program, or IEP, is a program or plan that ensures that children who have a disability that is identified under the law and are attending elementary or secondary educational institutions receive specialized instruction and related services. Under the Individuals with Disabilities Education Act (IDEA), signed into law in 1975, children in the United States who receive special education services must have an individualized IEP. The law  states that, 'Improving educational results for children with disabilities is an essential element of our national policy of ensuring equality of opportunity, full participation, independent living, and economic self-sufficiency for individuals with disabilities.'

IDEA also authorized early intervention services for children with disabilities from birth through age 2 and special education services for children and young people with disabilities between the ages of three and 21. Special education services are provided at no cost to students and their families. States receive federal funding for each IDEA-eligible student.

To qualify for an IEP, a child must have a disability that has an adverse effect on his or her educational progress. Creating an IEP allows for stakeholders, including parents, teachers, school administrators, and where appropriate, students, to work together to identify goals for students with disabilities' education.

What is a 504 Plan?

A 504 Plan is also a plan that is developed to ensure that children with disabilities identified under law receive accommodations in their elementary or secondary school institutions that allow them to access and be successful in their academic environment. 504 Plans are required under the Rehabilitation Act of 1973, a civil rights law that prohibits discrimination against people with disabilities in any institution, such as a school, that receives federal funding.

The law states that, "No otherwise qualified individual with a disability in the United States, as defined in section 706(8) of this title, shall, solely by reason of her or his disability, be excluded from the participation in, be denied the benefits of, or be subjected to discrimination under any program or activity receiving Federal financial assistance…"

Section 504 requires such educational institutions to provide reasonable accommodations to students with disabilities and to document such accommodations in the 504 Plan.

What is the Main Difference Between IEPs and 504 Plans?

Both 504 Plans and IEPs are designed to ensure that students with disabilities receive equal access to education. However, IEPs are intended for students who receive special education instruction, while 504 Plans are for students who have certain accessibility requirements but do not require specialized instruction. For example, a student with a 504 Plan may require large print classroom reading materials or extended time on assignments and exams. In other words, not all students with disabilities require specialized instruction, and IEPs and 504 Plans are designed to ensure accommodations for students with different types of educational needs.

Whether a student needs an IEP or a 504 Plan depends on whether the student is able to participate in a regular education environment with accommodations or whether he or she requires specialized education.

Which Students are Eligible for IEPs vs. 504 Plans?

There are two requirements for students to get an IEP. First, the student must have one or more of the 13 disabilities that are listed in IDEA, like autism, learning disabilities, ADHD, and others. Second, the disability must affect the student's ability to learn in a general education environment and/or his or her educational performance.

Section 504 has a broader definition of disability, covering a wide range of issues that students could face in a school setting. Section 504 defines disability as one or more substantial limits on basic life activities. Thus, students who do not qualify for an IEP under IDEA may still qualify for a 504 Plan.

Who Creates an IEP vs. a 504 Plan?

There are specific legal requirements outlining who must participate in creating an IEP. The team that creates an IEP must include:

- The child's parent or guardian.
- At least one of the child's general education teachers and at least one of his or her special education teachers.
- A specialist who is able to interpret evaluation results, such as a school psychologist.
- A district representative who has authority over special education services provided by the district.

Rules governing who may participate in a 504 team are less specific. A 504 Plan should be created by a team of people who are familiar with the student and special service options, including the child's parent or guardian, teachers, the school's principal, and others familiar with the child.

What is in an IEP vs. 504 Plan?

An IEP is a written document that must include a number of details about the student's learning goals as well as the education services that the school will provide. This includes, among other items:

- The student's current level of academic performance.
- Annual educational goals for the student as well as the metrics that the school will use to track the child's progress.
- The special education and supplementary extended school year services that the child will receive.
- The timing and duration of these services.
- Any other accommodations or changes that will be made in the student's educational environment.

Unlike an IEP, a 504 Plan does not necessarily need to be a written template and does not have a standard template. 504 Plans generally include information about the specific accommodations and services a student will receive as well as the names of school staff members responsible for providing each service and the person responsible for the overall implementation of the plan.

Both IEPs and 504 Plans help ensure that students with disabilities receive equal access to education and related services.